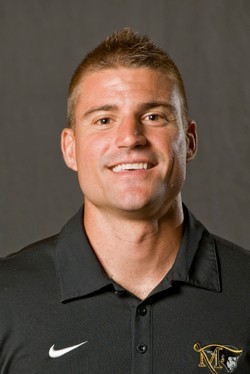 Matt Procopio enters his third season as Millersville's head coach in 2017. The 2009 Millersville graduate and soccer great has made a quick impact on the program. In 2016, the Marauders continued to build toward the future, improving its win total by three in conference play and narrowly missing the PSAC Tournament.
Procopio was named head coach on August 3, 2015. Procopio served as assistant coach for the Millersville women's soccer team in 2012 and 2013 and as an assistant with the men's program at Tiffin University prior to returning to his alma mater.
With the Marauders in 2012-13, Procopio built a reputation as a tireless recruiter while running highly-successful summer camps and clinics. His influence was integral in the development of the players, and he made an immediate impact on the program. With Procopio on staff, the team posted its best season in six years and made another leap forward by garnering a national ranking in 2013. Many of the players that he recruited were the catalyst to a 9-6-2 record in 2014, which was the program's best record in more than a decade.
After elevating the Marauders' to new heights, Procopio landed a role as the men's soccer assistant coach at Tiffin University. Procopio helped guide the Dragons to a 12-5-1 record, GLIAC Championship and NCAA regional appearance.
Procopio has roots and recruiting connections in the area as a native of West Lawn, Pa., and graduate of Wilson High School. He was a Marauder under Coach Steve Widdowson from 2005-08 and played a prominent role in the Marauders' rise to PSAC power. He started 53 of 63 games as a defender and served as the co-captain of the 2008 club that set a school record with 18 wins, won a PSAC East Championship and NCAA Atlantic Regional Championship. His team climbed to No. 6 in the national rankings. Procopio was a two-time All-PSAC East and an All-Atlantic Region selection by NSCAA/Adidas and Daktronics. He garnered All-America honorable mention status as a senior.
After completing his bachelor's degree in technology education, Procopio coached worked with Braddock Road Youth Club, Coerver Coaching and D.C. United in the Washington, D.C. area. He moved across the country a worked with clubs and leagues in California. He also worked with the Harrisburg City Islanders Youth Academy.
Procopio holds a NSCAA Premier Diploma, USSF "C" Lisence, USSF National Youth License, NSCAA Goalkeeping Level II Diploma and is a certified USA Weightlifting Level I Sports Performance Coach.